Large-format Printers
The large-format printer in the Research PC Room can be used to print off posters for academic conferences, large notices and faculty signs.
Any printing costs shall be borne by the user.
Terms and Conditions
Use of the large-scale printers is restricted to university staff, graduate students and thesis students
Users may only print educational materials or documents related to their work
An ITC account is required to use the printers
Using the Large-format Printers
Make sure to book the printer before you use it
Reservations
Reservations can be made through the Facility Reservation System
Select "Large-scale Printer" on the system to reserve it
Only university staff can make bookings through the Facility Reservation System
Reservations can only be made by university staff
Make sure to not only reserve the large-scale printer, but a computer as well
Reserving Computers
Reservation Rules and Regulations
In the event that your reservation conflicts with another, arrange a compromise directly with the other applicant
Restrict your reservations to reasonable periods of time
If you finish earlier than your reserved slot, make sure to note this on your online reservation accordingly
If you finish earlier than your reserved slot and there is a booking immediately after yours, contact the applicant who made the reservation and inform them that you have finished
Additional Rules
As stated above, only university staff can reserve the large-scale printer online
Graduate students and thesis students must ask their course's lecturer to make reservations on their behalf
Printing Documents
When printing a file in an Adobe program (Acrobat, Illustrator and Photoshop), be sure to select the type of paper (premium plain paper, super synthetic paper etc.) you wish to print on.
Replacing Printer Paper
Compatible Types of Paper
Premium plain paper
Sakurai super synthetic paper
Semi-glossy photo paper HG (light)
Fire-retardant fabric
#if you wish to print on this, inform the Shiba-Kyoritsu ITC at least one day in advance of when you wish to print). You may print on this fabric from 9:00-17:00
#If you wish to print on a paper type not listed here, contact the ITC
#There are two sizes you can print in: 36 inches (914.4mm) or 42 inches (1066.8mm)
Only select paper types can be used for borderless printing
nly select paper types can be used for borderless printing. Check the table below for more information.
| | | | |
| --- | --- | --- | --- |
| ラベル名 | 完全フチなし 印刷可能 | 左右フチなし 印刷のみ対応 | フチなし印刷 非対応 |
| プレミアム普通紙 | ● | | |
| スーパー合成紙 | | | ● |
| フォト半光沢紙HG(薄口) | ● | | |
| 防炎クロス | | ● | |
Printing Costs
Users will be charged based on their printing history
Costs will be billed to the user's affiliated course
Bills will calculated at the end of January each year and issued in February
Pay for bills via bank transfer from your course's research funds#
Contact the Shiba-Kyoritsu ITC for more information on other methods of payment
#Do not settle bills using academic society funds
Paper Costs
Costs associated with printing a poster (1066.8mm x 1261.4mm)
| | | | |
| --- | --- | --- | --- |
| 用紙の種類 | 用紙代 | インク代 | 合計 |
| プレミアム普通紙 | 98.291 | 86.318 | 185 |
| スーパー合成紙 | 561.663 | 114.889 | 680 |
| フォト半光沢紙HG(薄口) | 678.676 | 122.104 | 800 |
| 防炎クロス | 2527.483 | 123.532 | 2650 |
#The total cost will be rounded down when the final digit is \4 or less and rounded up when it is \5 or more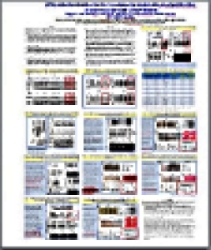 #An example poster
Cost associated with printing photos (1066.8mm x 348.8mm)
| | | | |
| --- | --- | --- | --- |
| 用紙の種類 | 用紙代 | インク代 | 合計 |
| プレミアム普通紙 | 28.405 | 126.066 | 150 |

Last-Modified: December 11, 2020
The content ends at this position.